Glass stele, Paderborn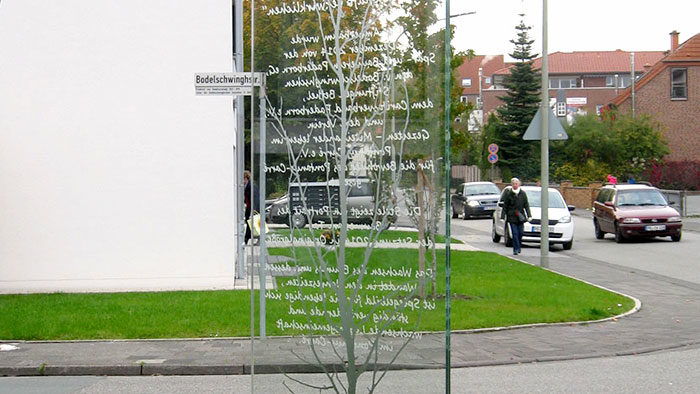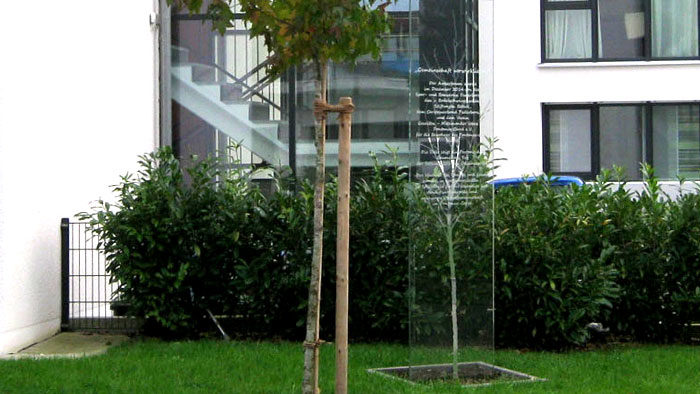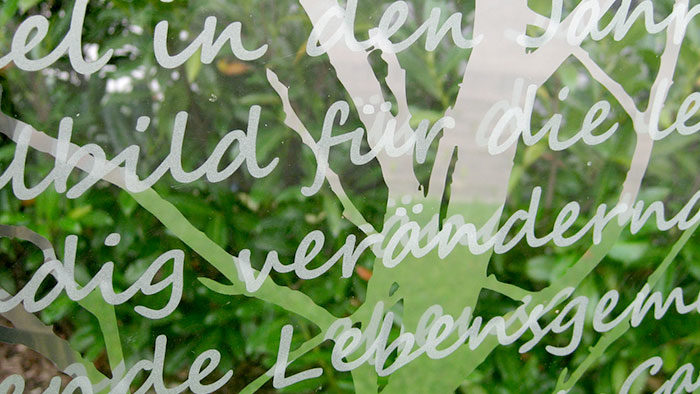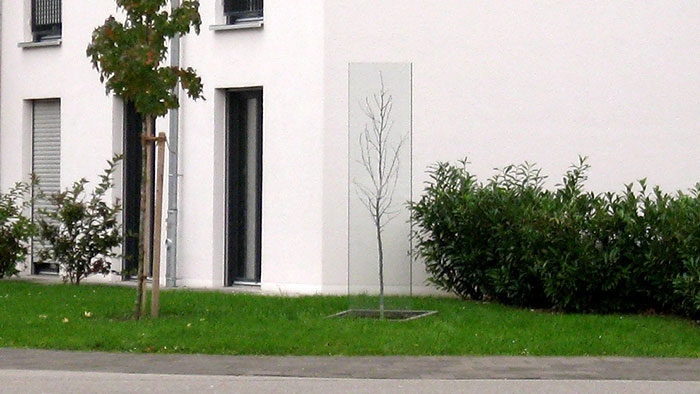 Description of task:
An artistic highlight was to be provided for the premises of the Savings&Loans association, the Spar- und Bauverein Paderborn eG, located directly on the intersection of Pontanusstrasse and Bodelschwinghstrasse. The association runs a multi-generation project here that comprises a senior citizens' residential community and meeting center for the entire neighborhood, the so-called "Pontanus-Carré". The designated space is clearly visible from all sides of the street. The art work placed here may be viewed from a range of different perspectives. The client wanted a free-standing glass painting.
Design proposal and realization
Bernd Fischer proposed a "glass stele" that would "grow" directly out of the lawn – and to plant a tree to accompany it.
The stele was to show a lifesize, mirror-inverted depiction of the tree from the root to the top in glass paint. In addition, the date on which the stele was erected and the tree was planted would be engraved into the glass using a sandblasting technique that creates deeper indents.
The natural tree would give the crossroads a different character, gowing and changing with the seasons. The tree-shaped space in the mirror would remain the same size and in the same original state – either carrying leaves or not.
The passage of time would soon become apparent in this combination between the fixed depiction and the growing thing depicted. The people walking by the "glass stele" and the tree would find themselves reflected in this passage of time.
The glass painting was realized as outlined here. The client further provided a text for the stele, which reads as follows:
"Accomplishing communities"
The Liquidambar was
planted on December 1, 2014,
by Spar- und Bauverein Paderborn eG,
v. Bodelschwinghsche Stiftungen Bethel,
Caritasverband Paderborn e.V.,
and the association
Gezeiten – Miteinander leben im Pontanus Carré e.V.
For the inhabitants of the Pontanus-Carré.
The stele shows a life-size portrait of the tree
on the day it was planted.
The tree's growth and its changing appearance
throughout the seasons is a reflection of
the lively and constantly changing and growing
community in the Pontanus-Carré.
Client: Spar- und Bauverein Paderborn eG
Glass painting: Design: Bernd Fischer, Offenbach am Main,
Realization, technical planning and project management: Glasmalerei Peters, Paderborn
Additional companies involved: Reinhold Bunte, Garten- und Landschaftsbau; Friemuth GmbH + Co. KG, both based in Paderborn
Completion: December 2014