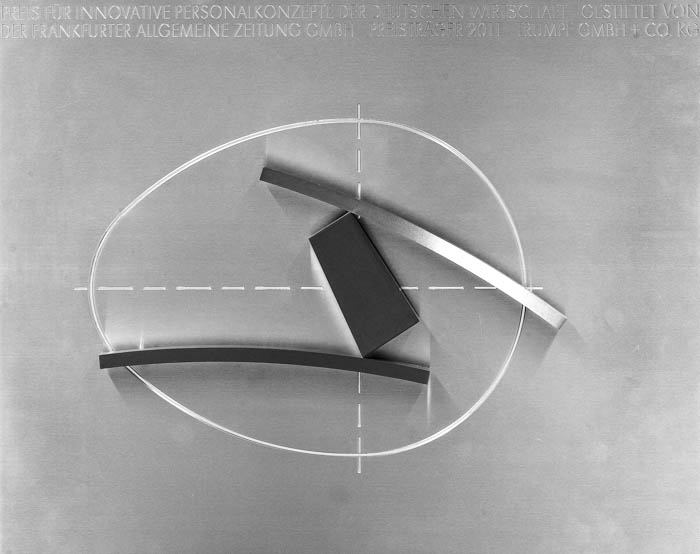 2012, Metal, H 55 x W70 x D 4,3 cm (Foto: F.A.Z.)
In 2011, the newspaper Frankfurter Allgemeine Zeitung commissioned Bernd Fischer to design a work for the Innovative Personnel Concepts award.
The Task
The task entailed creating an artistic work whose design could be recognized in relation to the Innovationspreis der deutschen Wirtschaft while at the same time having an independent appearance.
The Concept
Bernd Fischer suggested engraving a graphic depiction of the 'golden ratio' into the back plate. The golden ratio describes a relationship making it a symbolic visualization of the internal relationships involved in personnel concepts.
The Design of the Award
A silhouette of a 'head shape' is engraved into the centre of the back-plate. This shape is intercepted by a horizontal and a vertical dotted line in the proportions of the golden ratio.
In front of the engraving floats the object which represents the Innovationspreis der deutschen Wirtschaft, patented as the world's first innovation prize – "Dahinter steckt immer ein kluger Kopf" (There's always a clever mind behind it).
This object with its dynamically balanced composition stands for movement and for the first ever innovation prize.
All cited meanings refer to people, relationships, dynamism and harmony.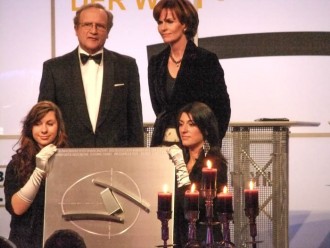 Awards ceremony on 11 February 2012 in Palais Thurn und Taxis in Frankfurt/Main, (standing) Dr. Roland Gerschermann, Managing Director of F.A.Z., and Dr. Nicola Leibinger-Kammmüller of the Trumpf company; 31st Gala event.