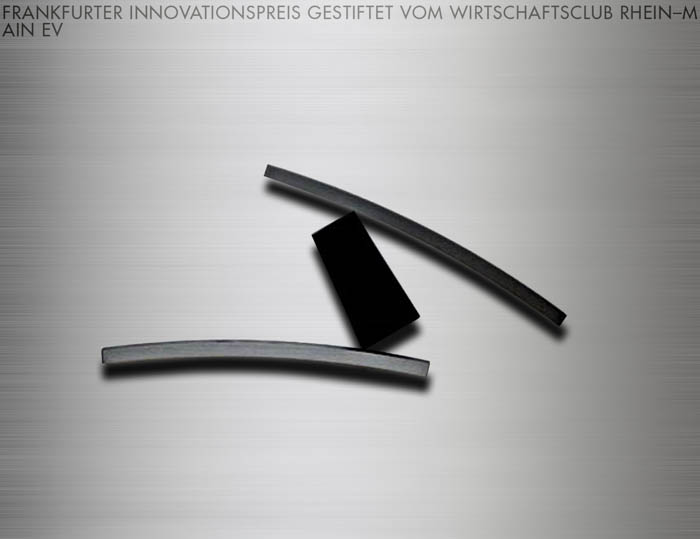 Successively engraved carrier plate made of brushed stainless steel,
with added fine-ground steel elements
H 55 x B 70 x T 4,3 cm
Rhine-Main Business Club
Assignment
In 1979, at the Hochschule für Bildende Künste, Städelschule in Frankfurt/Main, the Wirtschaftsclub Rhein-Main (Rhine/Main Business Club) commended a sculpture which was created as part of the school's internal competition. The work was conceived as a future award for German companies who develop an exceptional, innovative product or who develop and introduce an intellectual innovation to the market. Bernd Fischer's work was selected by a jury of professors.
Innovationspreis der Deutschen Wirtschaft (Innovation Prize of the German Economy)
An artwork to celebrate innovative achievement
A steel object is mounted in front of a stainless steel plate. The name of the award and all the companies who have received the award are engraved on the back of the plate. The artwork is designed to be hung on the wall.
The dynamic aspect of the object used in the innovation prize is of paramount importance. A dynamic which on the one hand projects into the unknown surrounding space but which also remains effective within the object itself. This can be likened to an innovation which, while developed from the known and visible, opens up unknown possibilities beyond. Innovation is understood here as a dynamic which projects beyond the known into a new, future space.
The names of the award winners engraved consecutively into the plate form an annually changing document of exceptional innovative achievement – that is, until there is no more space left for future engravings. When this happens the work is complete and becomes a historic testament to outstanding innovative achievement in German economy at the turn of the century.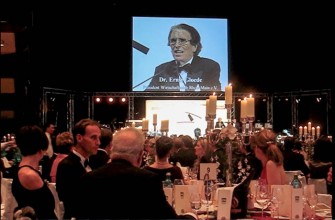 28th Awards Ceremony in Alter Oper, Frankfurt /Main, 2008; opening address by the President of Wirtschaftsclub Rhein-Main and initiator of the award