Stripping of doctor titles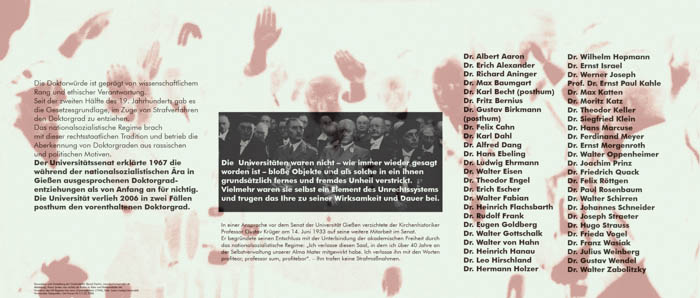 The Memorial plaque for the stripping of doctor titles,
Gustav Krüger Auditorium of the Justus Liebig University of Giessen
2008
In the Nazi era Giessen University (Ludoviciana) revoked or denied 49 academics a doctoral degree for political or racist reasons. In 2006, Justus Liebig University publicly restored the degrees to these victims. In two cases Giessen University awarded doctor's degrees posthumously which were not awarded during the Nazi regime in spite of the successful completion of doctorate procedures. background research on the denial of doctoral degrees also revealed that during the Third Reich the university was not compelled to revoke the doctoral degrees. The protest by Professor of Protestant Theology, Gustav Krüger, refers to alternative channels of action. Justus Liebig University saw in these findings the opportunity to publicly restore the doctoral degrees which were revoked for political or racist reasons and at the same time to draw attention to the responsibility and duty of the members of an academic institution as regards academic freedom. The assignment was described as such: To link the reinstatement with civil courage.
Assignment
The assignment was to conceive, design and realize a plaque in which the above was concisely included and represented in an appropriate sense.
Text
A doctorate is defined by academic
standing and ethical responsibility.
Since the second half of the 19th century it has been
the law to revoke the title from persons
against whom criminal proceedings have been instigated.
The Nazi regime broke with this constitutional tradition
and revoked this academic title for racist
and political reasons.
In 1967, the University Senate declared
the stripping of doctor titles decreed
in Giessen during the Nazi
dictatorship to be null
and void from the start.
In 2006, in two cases the university
posthumously reinstated the denied doctor title.
The universities were not – as has been repeatedly
stated – merely objects caught up in
something ominous that was basically distant and alien to them.
Rather, they were themselves an element of an unjust system
and made their own contribution to its efficiency and duration.
In an address to the Senate of the University of Giessen on 14 June, 1933
art historian Professor Gustav Krüger resigned from his seat on the Senate.
He justified his decision with the ending of academic freedom by the
Nazi regime: "I leave this room in which for over 40 years
I have been involved in the independent government of our alma mater,
I leave it with the words profiteor, professor sum, profitebor". – he was dealt no punishment.
Dr. Albert Aaron
Dr. Erich Alexander
Dr. Richard Aninger
Dr. Max Baumgart
Dr. Karl Becht (posthum)
Dr. Fritz Bernius
Dr. Gustav Birkmann
(posthum)
Dr. Felix Cahn
Dr. Karl Dahl
Dr. Alfred Dang
Dr. Hans Ebeling
Dr. Ludwig Ehrmann
Dr. Walter Eisen
Dr. Theodor Engel
Dr. Erich Escher
Dr. Walter Fabian
Dr. Heinrich Flachsbarth
Dr. Rudolf Frank
Dr. Eugen Goldberg
Dr. Walter Gottschalk
Dr. Walter von Hahn
Dr. Heinrich Hanau
Dr. Leo Hirschland
Dr. Hermann Holzer
Dr. Wilhelm Hopmann
Dr. Ernst Israel
Dr. Werner Joseph
Prof. Dr. Ernst Paul Kahle
Dr. Max Katten
Dr. Moritz Katz
Dr. Theodor Keller
Dr. Siegfried Klein
Dr. Hans Marcuse
Dr. Ferdinand Meyer
Dr. Ernst Morgenroth
Dr. Walter Oppenheimer
Dr. Joachim Prinz
Dr. Friedrich Quack
Dr. Felix Röttgen
Dr. Paul Rosenbaum
Dr. Walter Schirren
Dr. Johannes Schneider
Dr. Joseph Straeter
Dr. Hugo Strauss
Dr. Frieda Vogel
Dr. Franz Wasiak
Dr. Julius Weinberg
Dr. Gustav Wendel
Dr. Walter Zabolitzky
Concept and design of the memorial plaque: Bernd Fischer, www.fischerkuenstler.de
Illustration: Heinrich Wilhelm Kranz (first from right as rector, in the gown and chain of office, with representatives of the Nazi regime at a university celebration (1940), photo: Justus-Liebig University. Text sources used: Uni-Forum No.1/16.02.200
Design
Deciding on a transparent carrier material meant the content could be represented on various levels. In this way the complex request could be structured in an understandable way and designed with a differentiated interplay of the two focuses (reinstatement and civil courage).
The glass composite creation consists of three panes. A visible and perceptible spatial depth is created in this way which finds parallels in the period of focus.
Execution
Ceramic glass colors on white glass, as laminated safety glass
Free-standing in front of wall
Size of plaque: H 60 cm x W 142 cm x approx. D 2.5 cm
» Interview von Charlotte Brückner-Ihl mit Bernd Fischer im Uniforum (pdf)
» Auszug aus dem GUB-42-2009 (pdf)