From Catalogue: "Bernd Fischer, Stories without words", Frankfurt am Main, 2000
Bernd Fischer's career in the arts is best described by the successive journeys he embarked on. Finally, at the beginning of the Nineties he was able to unite them in one objective. He developed his craftsmanship and technical perfection as an artist during his studies at the Hochschule für Gestaltung in Offenbach; he found his artistic character during classes with the sculptor Michael Croissant at the Städelschule in Frankfurt.
Bernd Fischer's first artistic experiments are about sculpture. Through his sensitivity for form and space he was able to produce aesthetic tension fields filled with energy and strength. The Wirtschaftsclub Rhein-Main chose one of his dynamic designs as a sample for the annually awarded "Innovationspreis der Deutschen Wirtschaft" while he was still studying at the Städelschule.
But Fischer left this purely form inspired method soon. Fischer's three dimensional images transform themselves into two-dimensional carriers of colour, seemingly in accordance with the historical teachings of painting. But the asymmetry of these surfaces, cutting them up, newly reassembling them, and often adding additional, complementary images, demonstrate the absurdity of this assumption as the image surface was interpreted as a body.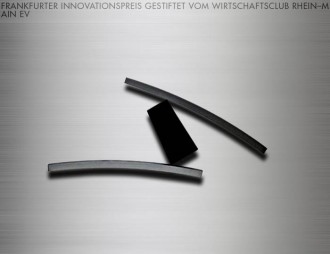 The sculpure of the first Innovation Award world wide, the Innovation Award of the German Industry
1979
50 x 55 cm
Rhine-Main Business Club
Without a doubt, the human being, single sense organs like hands, ears, eyes and again the head dominate the concrete part of this work. During this work phase the portrayal of an astronaut – Bernd Fischer saw in him a modern day version of Icarus – led to the use of screen-printing. A photograph was sent from heaven to earth through the use of digital transmission techniques and arrived as digital screen and grey shades in his images, it erased the figure created by a paintbrush. For Fischer this is his approach to an explanation and image contents.
He proceeds differently with the parallel-created "Elis Fröbom". Here a figure appears that seems to look completely at the world within us, painted with a brush in strong bright colours. In contrast to the presentation of the encapsulate, disguised human being moving through hostile space with the support of technology, he puts the image of those who disappear into their inner world and reappear shining bright. Bernd Fischer characterizes these images as the key work of his art.
Ikarus
1981/ 82
Grease crayon on cardboard
29 x 39 cm
Deutsche Bank, Frankfurt/Main
Five years later through the development of so-called "x-ray" paintings he turned completely to using screen printings. Now the basis is x-rays of the human skull.
If Fischer started using a profile at first, the complete skull takes this place in 1993. At first glance, Bernd Fischer's "x-ray images" appear to be abstract colour drifts. Only when scrutinising the images more closely, the viewer realises they transport concrete image contents, very much so in fact, namely insights into the human body. They become very familiar to the viewer and give rise to oppressive memories and personal experiences.
The viewer receives visual aid from a nine part installation called "Small Cosmology". Eight enlarged cuts arrange themselves around the basic motive of the skull, the x-ray image of the human skull. Rectangular markings describe how the cuts schould be viewed – the eye starts to search and discovers. The viewer starts a journey into the inside of a human, he enters the "cosmology" of an individual he doesn't know and it could well be himself. With that the work receives a philosophical dimension: with the artistic treatment of a mundane medical x-ray the viewer obtains the possibility for inner reflection and the question of dimensions and levels of reality arises.
Bernd Fischer's images absolutely demand that one discovers oneself through a sensual journey of the own self. A brave acceptance of this challenge manifests itself in some portrait work, where the customers commissioning this work consciously did not want a portrayal of the representative facade but of his existence.
In his latest work, Fischer splits the entire form of the skull motif up into sometimes eight images. He achieves an involution of reference of colourful and formal aspects. An echo of his former images rings from afar.
(E.S.)