Anne-Frank-Glass stele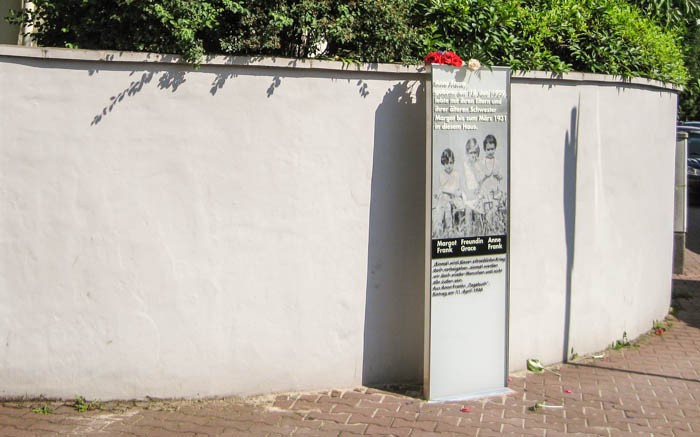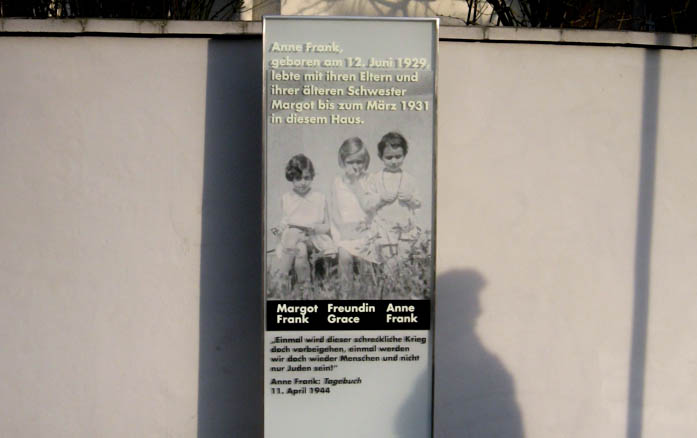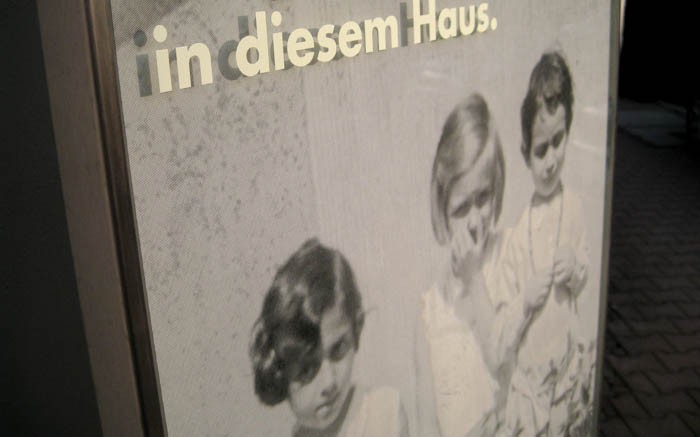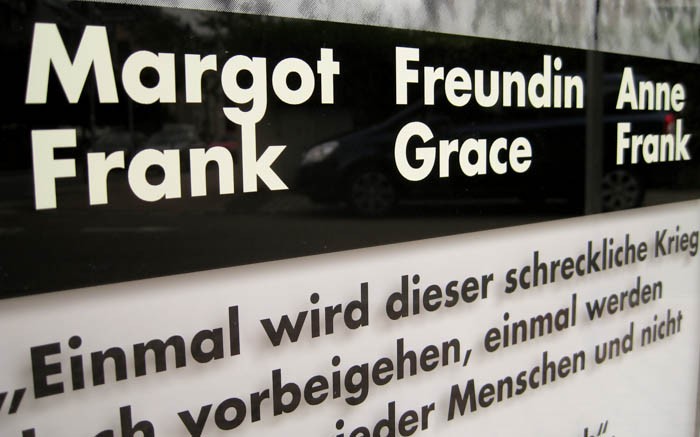 Anne-Frank-Glass stele
Marbachweg 307, Frankfurt am Main
2009
Assignment
Free-standing column to be set on the footpath near the boundary wall of the building at no. 307 Marbachweg in memory of its former resident, Anne Frank.
Text and photo motif: Supplied by the client
Design concept
Bernd Fischer's wish was to create a column whose design embodies a multilayered analogy to the complex aspects of a commemorative plate. It is his conviction that a work which is to recall a past situation should, at the same time, refer to the situation for which it is conceived. A commemorative plate, for example, is thus itself a document of history and encompasses three aspects:
– that which is to be remembered
– the moment in which this is determined as a commemorative work
– the moment of the observers who perceive the work and its content on the basis of the respective 'zeitgeist'.
Creative decisions
The format and coloration of the
work refers to a human scale and the direct spatial/architectonic situation. The Anne Frank column is an entity composed of multiple layers. It is a composite made partly of transparent glass panels. Observers see areas which are transparent, covered and superimposed with distance. The Anne Frank column does not stand on a base which raises it above the surroundings it arises directly from the ground and thus stands directly in the street space.
Text
Determined by the client.
Anne Frank,
born 12 June, 1929,
lived with her parents and
her older sister
Margot in this house
until March 1931
Margot Frank
Friend Grace
Anne Frank
"One day this terrible war
will be over, one day
we will be people again and not
only Jews!"
Anne Frank: Diary
11 April 1944
Official unveiling of the glass stele on 12 June 2009
Execution
Material: Three 12 mm sheets of safety glass, stainless steel profile
Format: Visible size approx. 175 cm (h) x 50 cm (w) x 4.8 cm (d)
Treatment: printed with in part precious metal-containing glass colors suitable for outdoor use.
Installation: Free-standing, without base, anchored in the ground
Period of project: Februar 2008 – Mai 2009
» Info-Download (german pdf)
» Presseresonanz, zwei Artikel (german pdf)
» Teaching at Anne-Frank-Schule
» Glasbau Frommen
» Kunst im öffentlichen Raum Frankfurt